2023 김현중 콘서트 'MY SUN' 굿즈 판매 안내 / Goods Sales Information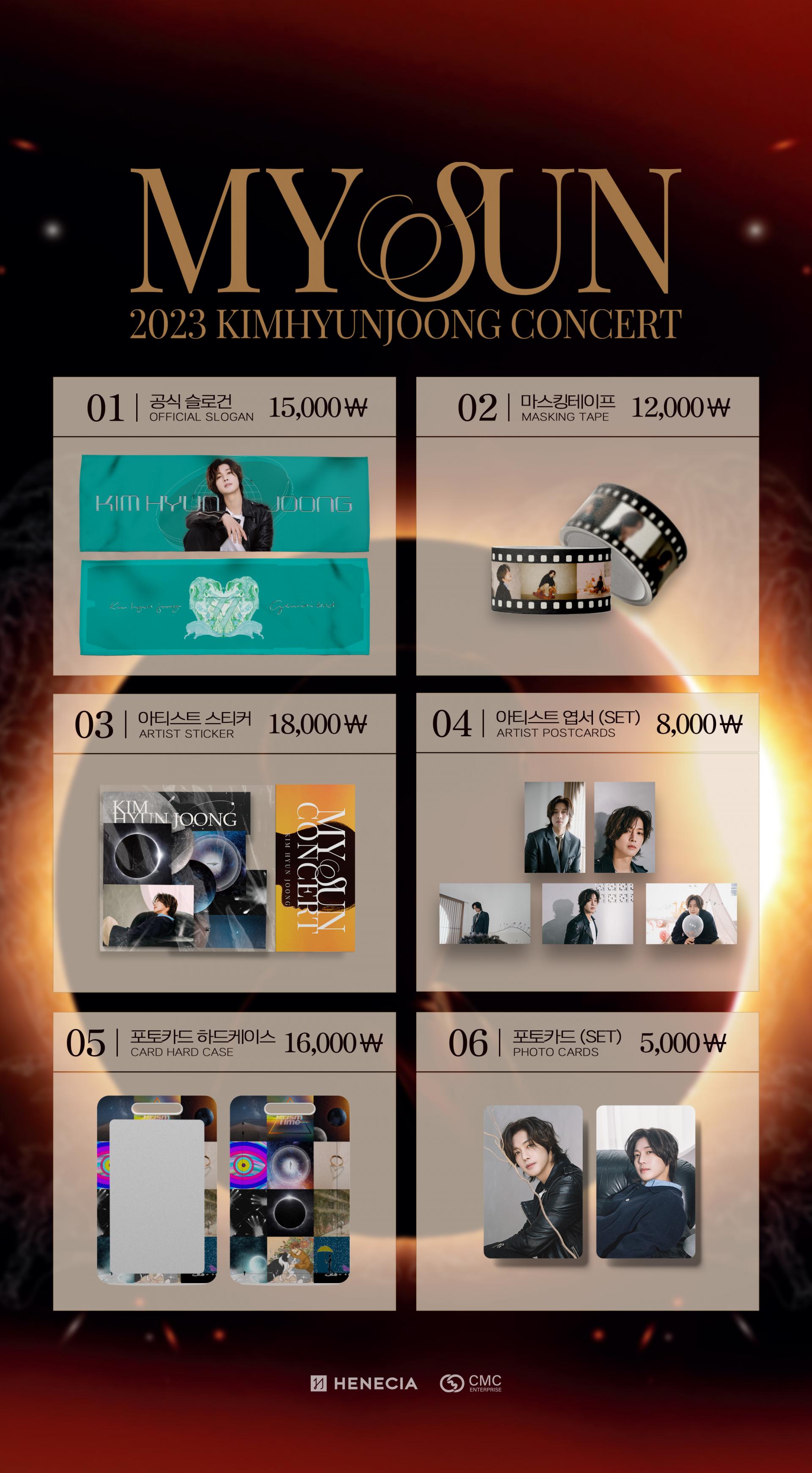 ※ 카드 및 현금 결제만 가능합니다. 페이팔 결제는 어려운 점 양해 부탁드립니다.
※ 2023. 03. 04 17:30 ~ 22:15 까지 YES24 LIVEHALL 로비 판매 부스에서 판매 예정입니다.
※ 불량에 대한 교환 환불은 가능하나, 단순 변심으로 인한 교환 및 환불 불가한 점 양해 부탁드립니다.
※ 교환 및 환불은 콘서트 당일에만 가능합니다.
※ 현장 상황에 따라 변동 될 수 있습니다.
※ Only card and cash payments are accepted. We apologize for the inconvenience, but we are unable to accept Paypal payments.
※ The item will be available for purchase at the YES24 LIVEHALL lobby sales booth from 5:30 PM to 10:15 PM on March 4, 2023.
※ We offer exchanges or refunds for defective items, but please note that we cannot offer exchanges or refunds for personal reasons.
※ Exchanges and refunds are only available on the day of the concert.
※ This policy may be subject to change depending on the circumstances.
※ クレジットカードと現金の支払いのみを受け付けております。ペイパルのご利用は申し訳ございませんが、対応できかねます。
※ 商品は2023年3月4日の17:30から22:15までYES24 LIVEHALLのロビー販売ブースで販売されます。
※ 不良品に関しては交換または返金が可能ですが、個人的な理由による交換または返金はお受けできません。
※ 交換や返金はコンサート当日のみに限られます。
※ 状況に応じて、この方針は変更される可能性があります。
※ Solo se aceptan pagos con tarjeta o efectivo. Pedimos disculpas por las molestias, pero no podemos aceptar pagos con Paypal.
※ El producto estará disponible para su compra en el puesto de venta del vestíbulo de YES24 LIVEHALL desde las 5:30 PM hasta las 10:15 PM del 4 de marzo de 2023.
※ Ofrecemos cambios o devoluciones para productos defectuosos, pero tenga en cuenta que no podemos ofrecer cambios o devoluciones por razones personales.
※ Los cambios y devoluciones solo están disponibles el día del concierto.
※ Esta política puede estar sujeta a cambios según las circunstancias.