[Exposition] "매개체(媒介體)" : 둘 사이에서 어떤 일을 맺어 주는 것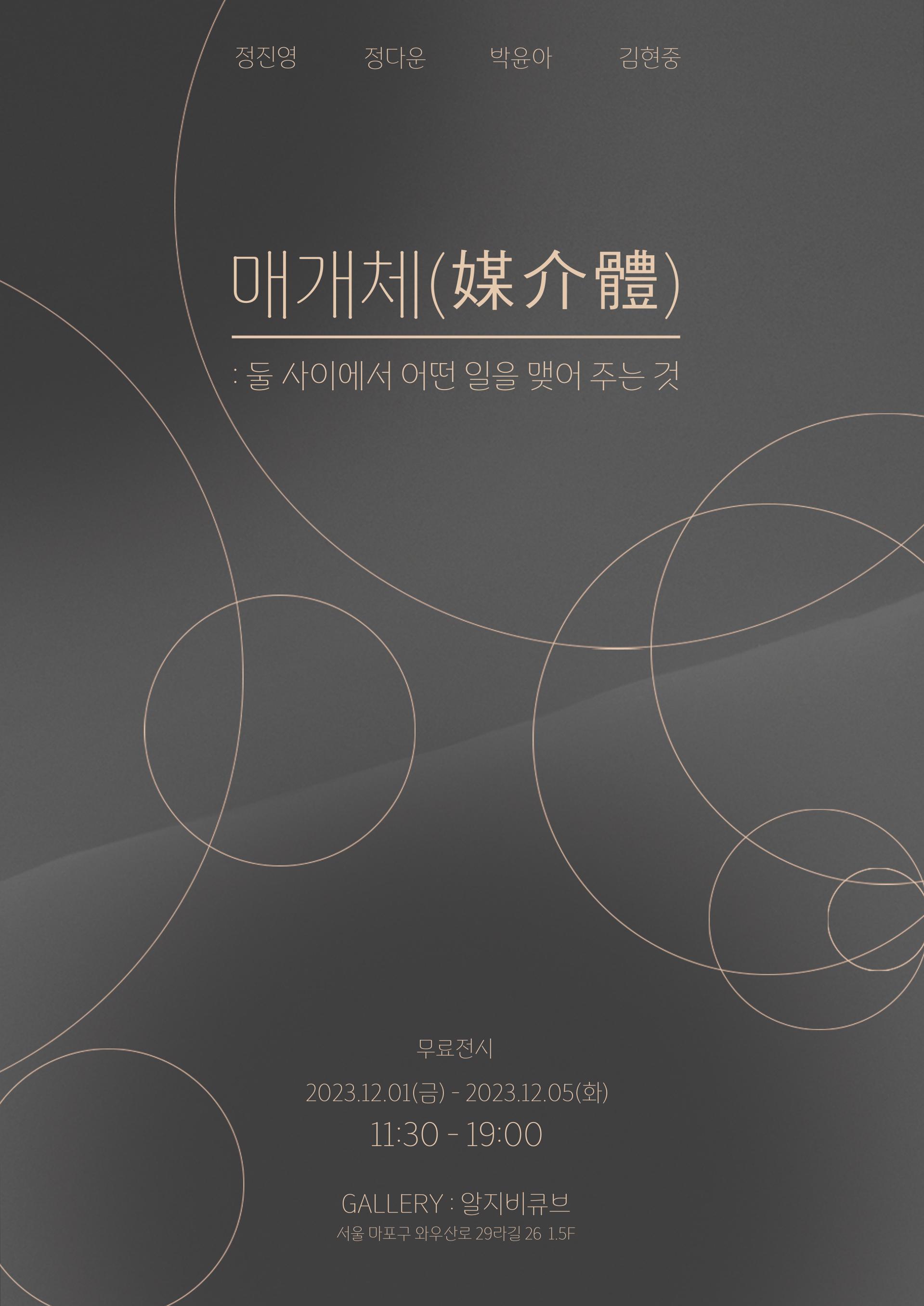 올 한 해 팬 여러분들께 그림 그리는 모습을 자주 보여드렸는데, 다음 달 12월 1일부터 멋진 작가님들과 단체전을 열게 되었습니다.
무료 전시이니 편하게 오셔서 관람해 주세요!
많은 관심 부탁드립니다.
"매개체(媒介體)"
: 둘 사이에서 어떤 일을 맺어 주는 것
👤 정진영
👤 정다운
👤 박윤아
👤 김현중
📅 일시 : 2023.12.01(금) ~ 2023.12.05(화)
⏰ 시간 : 11:30 ~ 19:00 (12월 1일 전시 첫 날은 13:00 오픈)
🗺️ 장소 : 알지비큐브 (서울 마포구 와우산로 29라길 26, 1.5F)
———
Throughout this year, I've often shared the process of creating art with you, my fans. Starting from December 1st, I will be hosting a group exhibition with talented artists. It's a free exhibition, so please feel free to come and enjoy the artworks!
"Mediator (매개체)"
: Something that facilitates a connection between two entities.
👤 Jung Jin Yeong
👤 Jeong Da Woon
👤 Park Yun A
👤 Kim Hyun Joong
📅 Date: December 1st (Fri) ~ December 5th (Tue)
⏰ Time: 11:30 AM ~ 7:00 PM (On the first day, December 1st, the exhibition opens at 1:00 PM)
🗺️ Location: RG Cube (1.5F, 26, 29-la-gil, Waowusan-ro, Mapo-gu, Seoul)
———
今年はファンの皆さんに絵を描いている姿をよくお見せしましたが、
来月12月1日から素敵な作家の方々とグループ展を開くことになりました。
無料の展示会なのでお気軽に観覧にいらしてください!
多大なるご関心をお願いいたします。
媒介體
:二つの間で何らかの事物が取り持たれること
👤 ジョン・ジニョン
👤 ジョン・ダウン
👤 パク・ユナ
👤 キム・ヒョンジュン
📅 日時 : 2023.12.01(金) ~ 2023.12.05(火)
⏰ 時間 : 11:30 ~ 19:00 (12月1日 初日は13:00オープン)
🗺️ 場所 : アールジービーキューブ(ソウル市 麻浦区 臥牛山路29 ラギル26, 1.5F)
———
A lo largo de este año, les he mostrado a ustedes, mis fans, el proceso de crear arte con frecuencia. A partir del 1 de diciembre, estaré organizando una exposición grupal con talentosos artistas. Es una exposición gratuita, ¡así que por favor siéntanse libres de venir y disfrutar de las obras de arte!
Su apoyo e interés significarían mucho.
"Mediador (매개체)"
: Algo que facilita una conexión entre dos entidades.
👤 Jung Jin Yeong
👤 Jeong Da Woon
👤 Park Yun A
👤 Kim Hyun Joong
📅 Fecha: 1 de diciembre (vie) ~ 5 de diciembre (mar)
⏰ Horario: 11:30 AM ~ 7:00 PM (El primer día, 1 de diciembre, la exposición se abre a la 1:00 PM)
🗺️ Ubicación: RG Cube (1.5F, 26, 29-la-gil, Waowusan-ro, Mapo-gu, Seúl)