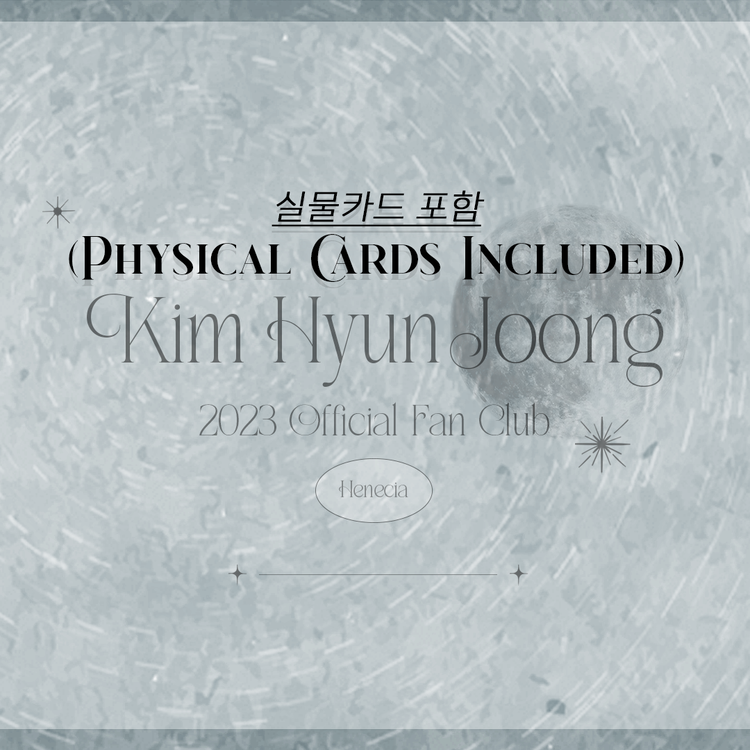 [Termination] (Physical Cards Included)2023 KIMHYUNJOONG OFFICIAL FANCLUB MEMBERSHIP
(Physical Cards Included) 2023 KIMHYUNJOONG OFFICIAL FANCLUB MEMBERSHIP
Period of Activity
: 2023.01.05 ~ 2023.12.20
If you want to pay via 'PayPal', Please select any other language than Korean.
Please write down the delivery address in English.
(If you write down the delivery address in other than English, individual correction will be needed separately. Please check the E-mail and the alarm.)
<Fanclub Benefits>
'HENECIA Live On '(4 times / year)
'Radio, Story' (4 times / year, story board on hyun-joong.com)
Physical Membership Card & Unreleased Selfie Photo Card x2 (Shipping will start from the end of January to February)
Ringtone & Make-up call Content (MP3)
Individual Birthday Postcards sent out via e-mail (will be sent after 10th, January)
Pre-booking of Performance
Priority benefits for participation in other various fan-participation events and occasions

*The membership card and photo cards are sealed together.
**Shipping charge is separate from the membership fee.
1. You must register with your legal name.(Please write your name as it appears on your passport) ** There may be fanclub benefit-related disadvantages if you register under a name that is not your own. **
2. Please enter your fanclub e-mail address accurately. [Gmail is recommended] ** For this registration, in order to prevent mailing failures, you must enter 2 different email addresses and not the same address twice, when registering for membership. **
3. You are eligible for cancellation or a refund during the fanclub recruitment period, but will become ineligible once registration period ends.
4. Since fanclub benefits are only offered to fanclub subscribers, it cannot be passed on or sold to others.
5. Please keep your purchase details even after purchase and deposit.
6. Benefits or returns are unavailable if you withdraw from hyun-joong.com before the 2023 HENECIA activity period.
7. Information entered when registering for the fanclub will be used for fanclub member management and is automatically discarded after the activity period.
8. Please accurately enter the member information on My Page.
9. Customer service related to the fanclub can only be sent to the following e-mail address, [help.henecia@gmail.com].
10. All information entered at registration is only collected and used for the purpose of membership information for the 2023 Kim Hyun Joong HENECIA FanClub.